Finish the Sentence!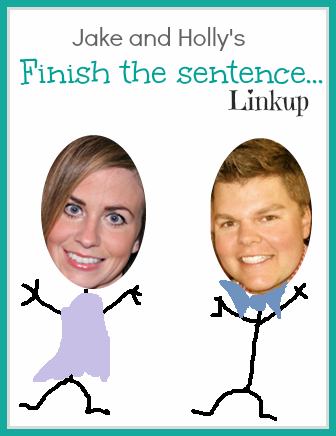 1.
If calories didn't count, I would eat...
kraft Mac and Cheese, every meal, every day. I don't get sick of it.
2.
On my Prom night....
which one? (boom!)--there were 3 my junior year, (I opted out Senior year b/c I graduated early), and I was too busy collecting dates to worry about date protocol, so 2 out of the 3 didn't even get boutonnieres. I think I had the MOST fun at my own school's prom. My date was a guy I worked with that went to a private school that didn't have dances, and there was nothing romantic so there were no strings, or weirdness, just fun. The other two were weird. At other schools with guys that I kinda liked, but felt like the girls (from the other schools) were giving me the stank eye all night..uncomfortable.
3.
When I go to the store, I always buy...
milk..if the kids don't need it for cereal, I need it in my coffee
4.
Family functions typically...
are divided and best tolerated with some Xanax. My parents and my in-laws do NOT mix. So we have two separate everythings. Gets VERY exhausting. Two birthday parties for each kid. Two holiday meals *bloats*. So I keep two pills in my pocket at all times. :)
5.
I think my blog readers...
will come? It's a fairly new blog, but I feel like I'm witty and entertaining and cater to the field of "semi stay at home Moms that kinda feel like they need 'something', and that want to lose a little weight"
6.
I'd much rather be.....
famous. Point blank. I'd love for people to 'know' me, I'd love to be a house hold name.
7.
I have an obsession with....
television. At any general time I have at least 200 things on my DVR. And I get cranky with my children when they get up too early and interupt Mommy's tv time.
8.
My work friends....
does my dog count? I'm a stay at homer for the most part. I guess that other teachers at the school are 'kinda' my co-workers?
9.
When I created my Facebook account....
my personal one? Mainly just to see what people I went to HS/College with were up to. Now I use it to keep up with people that I don't associate with b/c I feel like I'm a fatty and don't like to do social things. What?
10.
My least favorite word is...
it is a phrase actually. "Can I ask you a question?" or "Let me ask you this..."-just ask the damn question! Don't ask to ask!
11.
I really don't remember....
a time that I didn't drink coffee. Um..yeah..I started the summer I was 9, when I started spending my vacation with my grandparents. THEY drank coffee...and it was just a good excuse to bond with Papaw in the mornings. We would drink coffee and sit and watch squirrels on the front porch.
12.
Justin Bieber....
I didn't even know who he was until Glee did an episode. And I like the Glee cover better
Hungry? Oh that's right..I have a food blog too! At our house lately..we're addicted to
Cabbage Confetti
. Totally veggie, NO carbs, hardly any calories. Check it out!