Weight in Wednesday + 10 week challenge
Might just be the kick in the pants I need right?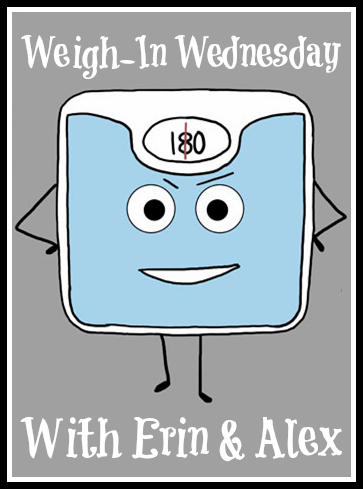 Today May 1-
186.6
Let's just state..for the record (you can totes tell I used to work with a bunch of attorneys huh?) I HATE the 80s. And I don't mean the neon scrunchie, John Hughes laden, Wham! rockin' 80s. I mean that RANGE. I've been here tooooooo long. And I'm tired of being here. I'll probably piss down my leg w/happiness when I finally see the 170s. Even 179 would be a happy moment...just sayin'.
So here's what I'm doing.. (and a bunch of others too!)
I'm hoping that jumping into a group that is already chock-full of some AWESOME bloggers will encourage me to keep it up.
The mini-challenge this week is cleaning the 'bad' food out of your fridge. And I can honestly say that we don't have alot of bad stuff in the fridge. Seriously. We have a ton of spinach, lettuces, veggies, raw goat milk, cucumber water, green tea. Our fridge it set up for success...I'm just not doing what I KNOW I need to be doing.
So along with the regular mini challenges I'm going to give myself one as well..one big one really. Stop drinking soda. I'm a diet soda swilling queen. Gawd, I love the stuff! And I need to stop. So I'm going to..right now.
So 10 weeks...that's just over 2 months...we can do this! 'I' can do this.